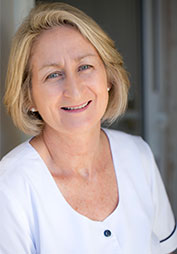 Sheila Barrett
Sheila Barrett, Owner, Chartered Physiotherapist and Acupuncturist at East Cork Physiotherapy, Balance & Acupuncture Clinic, Midleton, Cork. Sheila graduated from Trinity College, Dublin in 1986 with a Degree in Physiotherapy.
She completed membership exams of the Irish Society of Orthopaedic Medicine in 1994 and qualified as a Licensed Acupuncturist from the British College of Acupuncture in 1996. She gained Certification in Vestibular Rehabilitation from Emory University, Atlanta, USA in 2011. She has attended a wide range of post-graduate physiotherapy & acupuncture courses including sports injuries, biomechanics, core stability / pilates, women's health and osteoporosis. Sheila worked in the public & private sectors in Cork Hospitals & Clinics along with having worked abroad in the USA in both Florida and Michigan and in Zimbabwe. Finally opening this clinic in Midleton, Cork in 1996.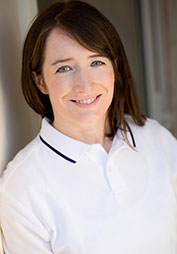 Mairead Evans
Mairead Evans studied at the University of Huddersfield, England and graduated with a BSc (Physiotherapy) in 2004. She worked within the NHS until she joined the clinic in 2008. She has gained postgraduate qualifications in acupuncture, biomechanics, sports injuries and vestibular rehabilitation.
Mairead has trained with APPI (Australian Physiotherapy & Pilates Institute) and specialised in Pilates for runners and pre/post natal clients. She has recently gained a certificate from Manual Concepts in spinal manual therapy. Mairead has a keen interest in the GAA, she previously played for St. Vals and was involved with Cork underage. Since retiring from football she has taken up running, participating in the local Ballycotton 5 mile runs and Ballycotton 10. She also is involved in cycling with her local club.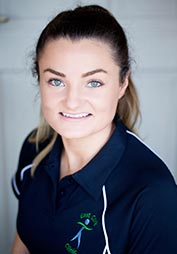 Gráinne Treacy
Gráinne Treacy studied at Queen Margaret University Edinburgh and graduated with a BSc Physiotherapy Hons in 2012. She went on to work in private practice in London before relocating to New Zealand. Gráinne worked in both public and private hospitals in Auckland for 4 years before returning to Ireland in 2018 to join East Cork Physiotherapy, Balance & Acupuncture Clinic.
Gráinne has post graduate experience in orthopaedics, sports injuries, post stroke, brain injury and amputee rehabilitation, along with biomechanical assessment, orthotic prescription and dry needling. Gráinne also provides pitch side physiotherapy for a variety of sports.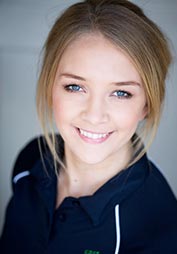 Katy Goulding
Katy gained her BSc Honours in physiotherapy in 2011 from the University of Liverpool in England. She since worked within the NHS as well as working in specialist private musculoskeletal practices before emigrating to Ireland in 2018 to Join The East Cork Physiotherapy, Balance & Acupuncture Clinic.
Katy's specialist interests are in orthopaedic rehabilitation, movement analysis, sports injury and injury prevention with tailor made rehabilitation programmes. Katy has completed masters modules in diagnoses and triage of the upper limb, clinical research, and management of temporomandibular disorders. She has since developed a specialist interest in disorders of the jaw. She is a keen gym attender herself with a personal and professional interest in body composition and development.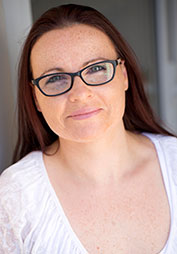 Emma Fitzgerald
Emma is the Administration Manager at East Cork Physiotherapy, Balance & Acupuncture Clinic, Midleton, Cork.
Emma joined the clinic in 2001 and since then has been responsible for the administrative aspects creating an efficient, friendly and welcoming environment.