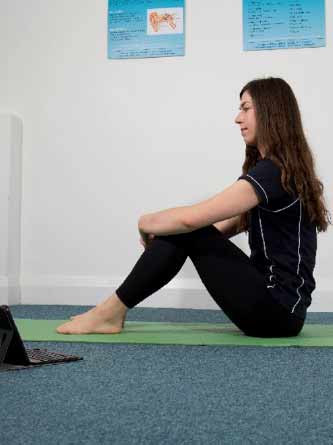 Pilates & Core Stability
Pilates is a form of exercise suitable to all levels of patients and athletes. It can improve overall body strength, proprioception, performance, lower back pain and flexibility. It focuses on maintaining a neutral spine, which leads to an improved posture. Should you suffer with spinal fatigue, low grade aches and pains or even acute bouts of neck and back pain, Pilates has been shown to be very beneficial in all these areas.
It can be made as easy or as difficult as the patient requires, even within a class, there are many progressions of each exercise. Pilate's exercises can be practiced in different positions depending on the patient's requirements and abilities e.g. gym ball seated exercises for a desk bound worker, standing exercises for athletes etc.
In today's fast paced life we spend countless hours sitting in front of our computers or bent over our desks, or we are running around, lifting, lugging and creating havoc in our bodies and minds. Without properly caring for our bodies, it is impossible to feel good. A lot of our stress and fatigue comes from poor posture imbalances in the body and lack of correct breathing. Pre & post partum women also benefit from Pilates due to the changes with their abdominal muscles.
At the East Cork and Physiotherapy and Acupuncture Clinic, patients are assessed by a Chartered Physiotherapist who specalises in Pilates training. Each patient is assessed and taken for one to one sessions at East Cork Physiotherapy and Acupuncture Clinic so their programme is personalised for them. Following initial assessment, a tailor made programme to suit the specific person and their presenting problem is established. This modified programme is taught on a one to one level and supervision of the exercise programme is carried out at spaced intervals.
Options:
One-to-One Clinic Classes