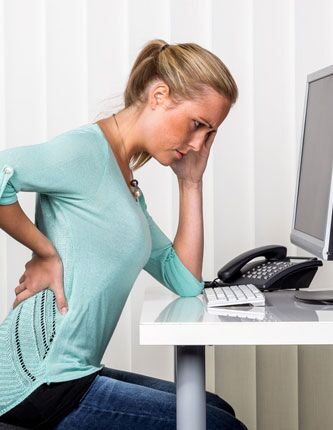 Ergonomics
Ergonomics is the science of your work place matching you & the task at hand, not you trying to match your work place or your task at hand.
This is applicable to all work force from small private enterprises to large multi-nationals.
Causes of ergonomic problems
Poor workspace layout.

Prolonged sitting or standing periods

Repetitive nature of a task

Heavy pushing, carrying, lifting and pulling

Vulnerable postures adopted

Unsafe work environment
Effects of poor ergonomics
A variety of symptoms can be experienced such as pain, stiffness, weakness, pins & needles or numbness of spinal or peripheral joints, headaches, dizziness, vertigo etc.
Prevention is better than cure
Healthy staff are productive staff and so Ergonomics is implemented to fulfil the 2 goals of health and productivity.
At East Cork Physiotherapy & Acupuncture Clinic we assess and treat the injury, identify the cause of the injury and implement exercises and postural training to minimise re-occurrence. Work place design tasks are considered so that rehabilitation can incorporate ergonomically correct practices.
If an on-site Ergonomic / Health and Safety analysis is necessary, our Ergonomist / Health & Safety Advisor can facilitate this. She would carry out a Risk Assessment, implement VDU, People Moving and Manual Handling training and develop Policies & Procedures.