Has your shoulder been sore and painful?
Has your sore shoulder gradually become more stiff?
It could be a frozen shoulder!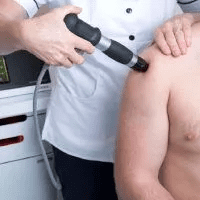 What is a Frozen Shoulder?
A FROZEN SHOULDER, otherwise known as an "adhesive capsulitis", has no known single cause. There are multiple processes involved in this condition. These processes include inflammation of the soft tissues around the shoulder joint leading to fibrosis or scarring. This then reduces joint space in the shoulder and contractions in the shoulder joint.
What does a FROZEN SHOULDER feel like?
There are generally 3 main stages in this condition:
Inflammatory stage: pain that gets worse but there is little change in range of movement of the shoulder
Plateau stage: pain persists but there is an increased feeling of stiffness in the shoulder which contributes to difficulty with daily activities like reaching for things on the shelf, putting on a coat or lifting your arm up.
Stage 3: reduced amount of pain but stiffness and limited movement persists.
What do you need to know?
People who have diabetes are at increased risk of developing a frozen shoulder.
The most common ages for this condition is between the ages of 35 to 65 years.
Physiotherapy is the main intervention for FROZEN SHOULDER with Shock Wave Therapy being revolutionary in treating it successfully.
Recovery from a frozen shoulder can take years without physiotherapy with a section of the population still left with some remaining pain or impairment with a particular function.
Steroid injections or surgery may be required if conservative measures fail.
Remember?
If you have any concerns about your shoulder pain or are experiencing increasing stiffness with your shoulder movements then feel free to call us on 0214633455 FOR A FREE TELEPHONE CONSULTATION or book an appointment now with one of our Chartered Physiotherapists here at East Cork Physiotherapy, Balance & Acupuncture Clinic by clicking the link below.
We hope you enjoyed this blog from Mark Canning, Chartered Physiotherapist and Sports Physiotherapist.
This blog is provided for information purposes only. The content is not intended to be a substitute for professional medical advice, diagnosis or treatment. Seek the advice of your doctor with any queries regarding a medical condition.